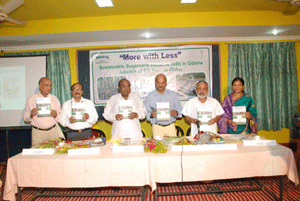 State to adopt innovative Sugarcane cultivation
BHUBANESWAR: The State government has decided to take up Sustainable Sugarcane Initiative (SSI), a method of sugarcane production involving use of less seed, less water and optimum use of fertilizer for more yield, on experimental basis across the State. "SSI involves similar techniques being used in SRI (System of Rice Intensification) which is getting encouraging response in the State. We will certainly ask scientists of Orissa University of Agriculture Technology to analyse the feasibility aspect of SSI," said State Agriculture Minister Damodar Rout while speaking on the sidelines of a workshop on SSI .
Mr. Rout said OUAT would popularise SSI among farmers through its extension programme on sugar cultivation.
Speaking on the occasion, Biksham Gujja, team director of International Crops Research Institute for the semi-Arid Tropics (ICRISAT) said by adopting SSI, a farmer would be able to produce at least 20 per cent more sugarcane while reducing 30 per cent of water input and 25 per cent of chemical input.
SSI would help sugarcane growers overcome problems such as rising cost of cultivation, unavailability of good quality of seed material and imbalanced nutrient management and other practices like mono cropping often resulted in low productivity, Mr. Gujja said.
The SSI was introduced in Nayagarh district where 20 farmers showed interest in planting SSI method of sugarcane cultivation in four acres of demonstration plot in 2009.
There was a marked difference in the yield of conventional sugarcane cultivation and SSI.
While the girth of cane in SSI was found to be larger than the cane of conventional cultivation, overall weight of a cane was higher by nearly a 0.4 kg in case of SSI cane.
State Agriculture Minister said sugar mills in the State were facing serious short supply in sugarcane for which they were running below their capacity level.