Sustainable Sugarcane Initiative (SSI)
Sugarcane cultivation and the sugar industry are facing multiple problems despite sugarcane being an important crop in India. There are 35 million farmers growing sugarcane and another 50 million depend on employment generated by the 571 sugar factories and other related industries using sugar. But despite India's long tradition and large area under sugarcane cultivation, in terms of productivity, sugarcane yields have being unimpressive.  During the last 10 years, sugarcane production in India has been fluctuating between 233 million tonnes and 355 million tonnes. With low yields and fluctuations in production, and India having the second largest area under sugarcane cultivation in the world next to Brazil, the industry is in for big trouble.

The average productivity of sugarcane is low with certain regions reporting yields as low as 40 t/ha only. Not only is the cane yield low, the sugar yield - typically at less than 10% of cane weight - is also less than satisfactory given that yields of 14% of cane weight at the time of cutting (and sometimes much higher) are possible. The Australian sugar industry for instance is regularly typified by sugar yields of around 14%, while yields of up to 25 tonnes of sugar per hectare have been reported in Hawaii!

There is an urgent need to improve productivity and protect farmer livelihoods and ecosystem through an integrated approach. This new approaches have to improve the productivity of land, water and labour without further degrading the ecosystems. 

The International Crops Research Institute for the Semi-Arid Tropics (ICRISAT) and World Wide Fund for Nature (WWF) have partnered together to explore options for 'Improving the water productivity in agriculture'. The project is looking at farm-based approaches based on principles of 'more with less' in agriculture. After its rich and successful experiences' in System of Rice Intensification (SRI) in rice it has now extended the principles and practices to the sugarcane crops through Sustainable Sugarcane Initiative (SSI). The highly successful methods and practices will increase the profitability of the farmers significantly while reducing the inputs — water, fertilizer, seed material —and improving the productivity of water, land and labour.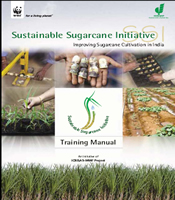 Director General William Dar of ICRISAT released the SSI manual "Sustainable Sugarcane Initiative (SSI): Improving Sugarcane Cultivation in India" at the event organized by the ICRISAT-WWF project on May 5, 2009. The Sustainable Sugarcane Initiative (SSI) aims to: provide practical options to farmers for improving the productivity of land, water, and labour reduce crop duration, providing factories a longer crushing season and increased employment opportunities for workers reduce the overall pressure on water resources and ecosystems. It stresses a practical approach that originates from farmers and civil society to improve productivity while reducing pressures on natural resources. It's estimated that by adopting SSI, a farmer will be able to produce at least 20% more sugarcane while reducing water inputs by 30% and chemical inputs by 25%.

Trainings for farmers from UP, Punjab, Orissa, Karnataka, Tamil Nadu and Andhra Pradesh were organized during the last few months. Our field interventions with Triveni Industries, Uttar Pradesh and at farmers field in Punjab, Orissa and Andhra Pradesh is showing promising results.

SSI methods have received an overwhelming response from the farmers, industries and researchers. The important thing about SSI or any other farm based approaches are that it has to be modified to suite the local conditions while retaining the main principles. 

The SRI in rice and SSI in sugarcane have proved the potential of addressing the water crisis while improving the productivity and profitability. India needs to invest in these methods to upscale to see the full positive impact of such approaches at the national level. It is also time for civil society, government agencies to work together to support the farmers in adopting these methods in a big way.

This manual has potential to radically change the way sugarcane is cultivated not only in India but throughout the world.

We have also initiated a SSI-google group in order to share and exchange the information among the members of similar interests from different parts of the world. We cordially invite you, especially those who are interested to join this group by following the link given http://groups.google.com/group/SSI-India